Develop the skills that contribute to the Sustainable Development Goals during our quarterly program of short, daily IDG habits guided by a coach.
Work on your inner development in just one quarter with this program.
The Development Goals For Each Leader
We all feel it. We cannot go on in this way, the need for economic growth, the endless search for efficiency improvement, increasing inequality, decreasing biodiversity.
We see the accident happening in slow motion before our eyes. What are you doing about it? What are we as leaders doing about it?
It feels like you and I can't change this.
This feeling is deliberately created by the corporate world and multinationals. As long as we continue to buy stuff, as long as we continue to fly and drive cars, it is good for the profits of these multinationals.
However, We can change it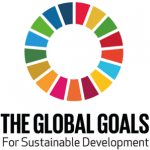 What you and I do does make a difference.
We are able to change our behavior. We are capable of breaking habits.
The sustainable development goals were created by the UN and signed by all countries, for collective change. To collectively eliminate poverty and hunger, for clean air and water, for equality, and 12 more goals by 2030.
Most organizations and companies have heard of the SDGs but are not yet doing much with them. Sometimes they put an SDG label on things they were already doing, but making the choice to contribute to an SDG that hurts the wallet is much harder.
This change will not happen by itself. We need lots of people to make the change, and we need people like you to help others to make that change too. The inner development of the individual is key.
Inner Development Goals
What should leaders do about reducing the challenges mentioned above?
We must take the lead on this and take responsibility for bringing this to the attention of every organization we work for.
In addition, we need to change our own behavior.
To do this, it is necessary to develop a number of skills.
More than 1,000 experts examined what skills we need to contribute to the SDGs, to contribute to that desperately needed change. They came up with a framework of 23 skills divided into five domains.
What makes the Inner Development Goals (IDGs) valuable is that with these skills we think better about the long term, which makes us look at our future, and the future of the next generations, society, and the ecology. For example, by working on such skills as your inner compass and critical thinking skills, you are better able to make long-term decisions.
As leaders, we must develop these skills ourselves and live by example for the organizations and the people we work with.
The added benefit is that companies get teams with people who act differently. These people are able to connect, and gain confidence and they continue to develop skills that are in demand. This creates happy employees, who will make clients happy.
As a leader, you cannot do without this inner development if you want a future on a planet that remains livable for ourselves and for future generations.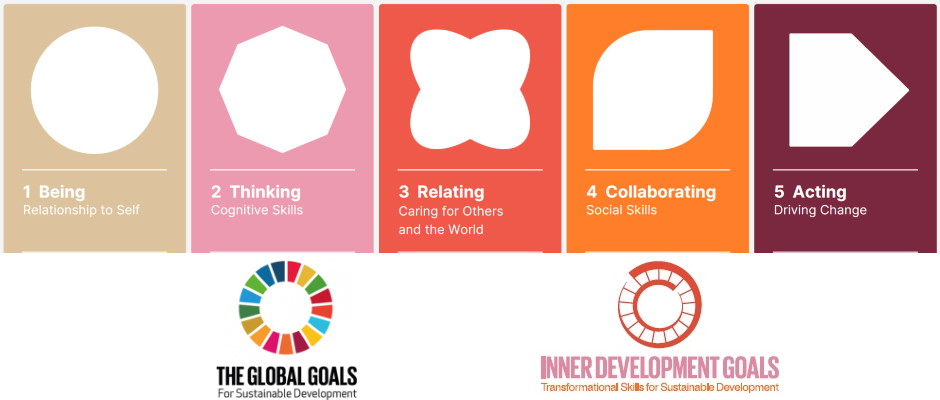 IDG Habits
How it works
In this program, we work on five skills in the Inner Development Goals framework.
The program has 7 steps:
Week 1: Opening
Week 2-4: Being
Week 5-6: Thinking
Week 7-8: Relating
Week 9-10: Collaborating
Week 11-12: Acting
Week 13: Closing
How do you make sure you get started with these IDGs? By changing your behavior, and that's harder than it seems. Our behavior consists 90 percent of the things we do without consciously thinking. By using the experiences of researchers like Wendy Wood, Charles Duhigg, Katy Milkman, and Daniel Kahneman, we can develop IDG habits.
Habits have the greatest impact on how we interact with the ecology and people around us. How and what we consume is directly linked to our habits. Buying stuff is the biggest polluter when you include waste, resources and energy (Babette Porcelijn). By developing our skills and changing our habits, we contribute to change.
Taking a small daily action to develop one of 23 skills is a good start.
Let's get started on your IDG habits.
We are able to change this. Will you join us?
In step 1 you will learn about the IDGs, the connection with the SDG's, habits, IDG habits, check-ins and accountability.
In steps 2 – 6 you will work on the five IDG skills that you want to develop, which takes no longer than 10 – 30 minutes per day.
In step 7 you will learn how to keep going and how to bring other people along.
When you join this group, you will complete the daily IDG habit independently. You will also be part of a virtual cohort of leaders completing the same exercises. Through Coach.me, you will be able to chat virtually with your coach and other cohort members during the week and join one virtual office hour each week to speak live with your coach.
In each step you will select one of the skills in that domain. You select the skill that you want to develop. Together we will find the tiny action you can do daily to work consciously the skills
You will report daily on the IDG habit progress to an IDG coach who will offer feedback, encouragement, and guidance. In addition, you'll be able to see other leaders going through the same process and discuss your challenges with them, too.
Each week your coach will host a live "office hour" where you and others in the group can discuss the IDG habits and challenges and brag about your progress.
The weekly online meetings will be on Mondays starting at 9.00 am Central Time (Chicago) or 4:00 pm Central European Time (Amsterdam).
Meet your coach Erno Hannink
Erno is the founder of ErnoHannink.com and Decide for Impact, he is a business coach, and he is a published author and speaker.
He is an expert in long-term thinking, decision making and habit forming. He is the accountability coach for entrepreneurs and their management teams. Decreasing ecological and social inequality is the foundation for his work.
Erno has a master's of business administration and a bachelor´s degree in telecommunication.
Erno is the founder of the IDG's HUB Achterhoek and the IDG HUB in Amsterdam. He is deeply involved with spreading the IDGs in the Netherlands.
He is married to Monique and together they have two children, a son, and a daughter. He reads a lot of non-fiction books and walks or runs daily, this gives him peace and inspiration. Saturdays you can find him in the garden and Sundays on the soccer fields as a referee for the national soccer amateur league.
LIMITED TIME INTRODUCTORY PRICE $ 249.99 (Normally $624.99)
Join today we start June 1, 2023
To summerize, in this program you get:
Daily accountability coaching on your IDG habits
13 live sessions with coach and other members
13 weeks access to coach.me
Space to share experiences and challanges with other leaders
Need More Convincing?
See what his students are saying…
"Erno is an excellent coach. He helped me be accountable and improved my productivity day over day, week over week. One thing that I loved is the emphasis that he puts on broad and long term thinking of your goals. For instance, what can you do now that will make you closer to your life goals?"

Louis
"Erno is AWESOME! Very compassionate while also being direct and supportive. He really understands habit change and how to get things started in a way that is doable and not overwhelming. I will absolutely be back. I absolutely recommend him"

Betty
"I hired Erno for accountability. I wanted to work on an ambitious long-term goal. Erno understood the initial problem and the evolution of my project over several months. He is a very professional and experienced coach."

Gaëlle