When I was younger, a lot younger, we played soccer on the street every day. We played before school time, after school time and during the lunch break. At the schoolyard or on the street.
When I was around 11 almost all the boys in our class were on a soccer team at a soccer club. So, of course, I had to join a soccer club as well. HSC '21 in our town was the most logical choice.
I joined the team and we finished first by the end of the seasons. This has not much to do with my role in the team. Most of the time I was on the bench with an injury. The injury had nothing to do with soccer and everything with my back, we discovered later.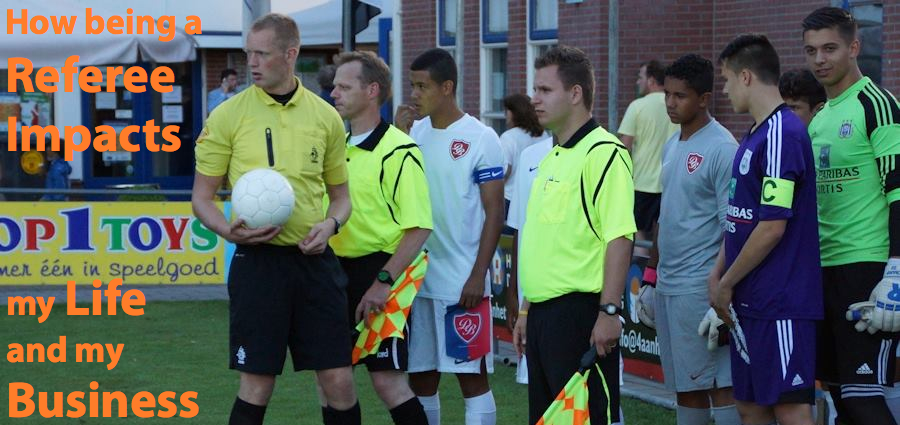 BTW I am the assistant referee on the left in this photo in an international soccer tournament under 17
The next season the rest of the team moved up or stayed in the same team and I was placed in a lower team. This had a lot to do with my soccer qualities. I was late at the game, troubles with the injuries and not much talent for this sport.
During the following years, we kept playing soccer on the street a lot. I prefer that over playing on the actual soccer field.
At some point, I started to ignore soccer and joined the athletics club a.v. Haaksbergen. A sport that I enjoyed a lot more.
Slowly I started to hate soccer where it was very normal for boys like me to watch the soccer matches on TV every Saturday and Sunday night. I didn't like that all. This probably had a lot to do with the enthusiasm of my mom during a game, she shouts a lot.
There was no need to watch the game on TV I could follow the score in my room upstairs just from my mom shouting. I was one of the few people that did not watch the national team play for many years.
So when our son was born we almost never watched soccer on TV. Actually he liked watching snooker in his younger years.
His first interest in sports had nothing to do with soccer. He wanted to start fencing, but there was no fencing club anywhere close to our home. We convinced him to choose a different sport. He picked archery. Not the first sport you think of for an 8-year-old, but this is what he choose.
Once a week we drove him to the archery club and watch him enjoy this game. They actually had to buy a new bow for him because of his young age.
He stuck with this game for almost two years and then a soccer game along. When the archery and soccer matches were both on Saturday he had to pick one sport. He went for soccer and never looked back.
He started off as keeper but after a few years, he changed to a football player.
As a parent, I wanted to support the club as a volunteer. First, as team manager, nothing technical just planning driving and laundry schedules, and the communication with the players and their parents. For three years I was even on the board of VIOD in Doetinchem.
Later when our son and the team moved to the bigger field I became the assistant referee. You don't need to do a course, you just learn while you are doing this every Saturday.
When he became older and moved up to the B and A team, second and first selection, I felt the need to improve my self as an assistant referee. I wanted to do this in a correct and in a fair way.
So I started a course, first for the referee and later for the assistant referee. I am so glad I did this because I now know what I am doing and I am confident about my decisions.
Starting this season ('14/'15) I decided I wanted to become an official assistant referee at the KNVB (Dutch National football league). This looked easier than it is in practice. In our region (East) there are plenty of assistant referees. Therefore, A. you need to be good and B. someone needs to drop out or move up or down.
The suggestion at our referee's club was to become a referee for the KNVB. This was never my intention. I really prefer being an assistant referee over being the referee.
To improve my knowledge of the game during the match and to improve my sprint I finally applied as referee for the KNVB for junior teams.
What I realize now is the clear parallels with my life and my business. I enjoy being on the outside of the arena. The center of the arena is out of my comfort zone, scary.
Being an assistant referee is 'safe' at the outside of the pitch. The referee makes the final call. Of course, when I make the call for an offside there are a lot of supporters that don't agree with me. Most of them don't know the exact rules and are biased for their team so I can understand that they don't agree with some of my calls. Some of the supporters of our son's team sometimes wish that I did not try to be so honest and sometimes call for offside to prevent a goal against our team. That's just not me.
A few weeks ago I had my first official match as an assistant referee in a bigger match. From my coach, I learned that I need to train a lot more on my sprint. Also, I learned that I need to support the referee on faults in the pitch. Something I never had to do before. Now I need to do this and become even more responsible for the calls and support the referee in his/her decisions.
So this is my learning point. This is me getting out of my comfort zone.
Running daily.
Doing sprint exercises.
Doing stair exercises.
Train weekly with the referee club on running and soccer rules.
Stepping in the center of the pitch each Saturday as the referee in a match.
It's scary and fun at the same time.
I still want to become a good assistant referee. I really love doing that. It the best place on the pitch for me. Of course, it is my comfort zone.
This is my learning year to get to the center of the arena. Now is the time to use this in my business too.
Launch a new product big or don't start building it.
I believe in what I do. I am on a mission. Now I need to make sure that most of the life coaches hear about it.
There you have it. This is how the soccer games of my son influence my business today.